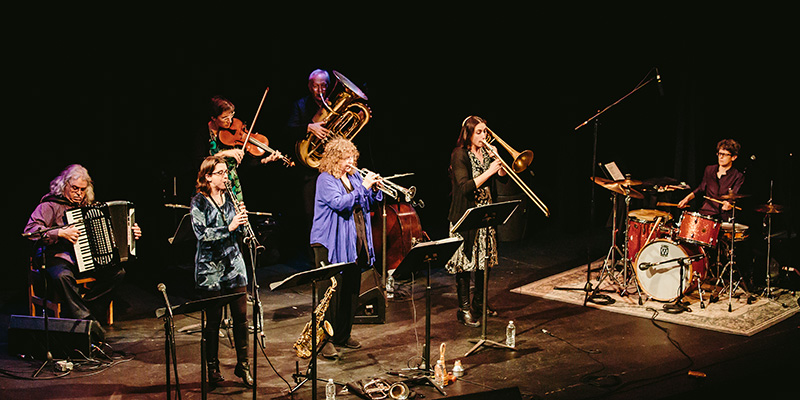 Hailed as "one of the finest American klezmer bands" by Songlines Magazine (UK), Metropolitan Klezmer performs an exhilarating range of musical treasure with astonishing agility and refreshing depth.
Formed in 1994 by drummer/leader Eve Sicular, this collaborative adventure of eight exceptional New York musicians combines the best of downtown, classical and World Music scenes to create inspired neo-traditional interpretations and compositions around a panoply of eclectic Yiddish repertoire: ethereal trance, rollicking dance, imaginatively-arranged Yiddish swing and tango, plus genre-expanding originals such as klezmer cumbia.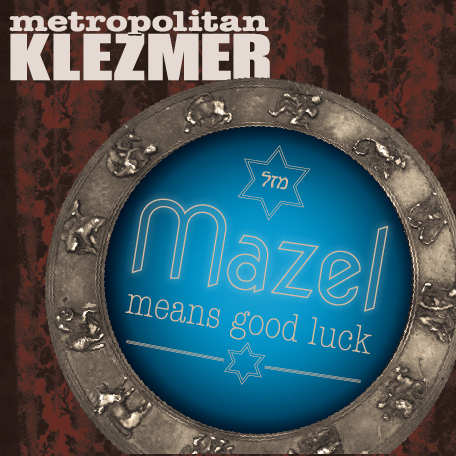 The octet released their acclaimed fifth album, Mazel Means Good Luck — recorded live in concert at The Emelin Theatre. (Bonus tracks include an original song in English from musical documentary theater piece J. Edgar Klezmer: Songs from My Grandmother's FBI Files as well as long-lost Yiddish disaster ballad Di Fire Korbunes performed onstage at Cooper Union's Great Hall for the centenary memorial of the Triangle Shirtwaist Fire; our recording is now also in the permanent collection of The Museum of the City of New York's Activist New York exhibition.)
Broadcast worldwide on HBO, PRI, NPR, WDR and many more, Metropolitan Klezmer brings together stellar bandmates with stylistic backgrounds from Latin jazz to funk and folk, Balkan to Zydeco to baroque, and reggae to opera to R&B – complete with panoramic instrumental array and multi-lingual vocals. The ensemble also explores such lesser-known gems as Soviet Yiddish theater melodies and drinking songs, gorgeous overlooked soundtrack tunes from vintage films set in Eastern Europe and the Lower East Side, and unexpected musical angles which transform familiar favorites from the inside out.
Time Out New York extols the group: "Metropolitan Klezmer takes a scholarly approach to the genre's history, yet never skimps on the exuberance at its core."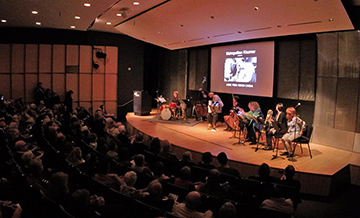 Metropolitan Klezmer has toured from coast to coast, with recent debuts at Falcon Ridge Folk Festival, The MIM (Phoenix AZ), Torrance Arts (CA), and Brooklyn Botanic Garden (headlining Ghouls & Gourds festival). Among the group's special offerings, multi-media/live band program Music from Yiddish Cinema played to an overflow Lincoln Center audience at the Bruno Walter auditorium, featuring a panoply of archival film clips with context from Harvard-educated film scholar/bandleader Eve Sicular and live performance of the band's own lush adaptations of soundtrack music from beloved Yiddish movies both celebrated and obscure. The eight-piece group also drew a packed house for their Lincoln Center premiere at the David Rubenstein Atrium, as well as Southwest and West Coast venues including Scottsdale Center for the Arts. The group delighted audiences at The Corning Museum of Glass, Count Basie Theatre (Red Bank NJ), with full houses again and repeat engagements from BlackRock Center to The Strathmore (MD), Miami (FL) to Manhattan, and on campuses from Mason Gross School for the Arts to Elmira College. Jewish Week gave the band five stars [top rating], lauding their "wildly variegated flavors… Formidable… clever, spirited and smart musicianship." The Village Voice described this "outstanding group" as "delightfully rambunctious… hard-swinging," and Flavorpill beamed over "a sound that is not only exuberantly eclectic but also very danceable" from "modern-day purveyors of time-honored traditions."
The octet has enjoyed two residencies for the 92nd Street Y's Musical Introduction Series, and has been honored by support from the Creative Engagement, The Fund for Creative Communities, and Manhattan Community Arts Fund (NYSCA and NYC's Department of Cultural Affairs). The ensemble has also performed for the Mayor at Gracie Mansion, and was thrilled to appear twice with surprise guest Paquito D'Rivera. Bandmates have also performed with Jill Sobule's Music From Yentl at Joe's Pub as well as Lincoln Center. Metropolitan Klezmer's latest album, Mazel Means Good Luck, was released at a special concert at NYC's historic Museum at Eldridge Street coinciding with the band's 20th anniversary.
Music from Metropolitan Klezmer's five award-winning CDs has been praised by the UK's Phat Planet as "brilliant and breathless… mixing levity with the gravity." Numerous album cuts are heard in documentary features such as HBO's SCHMATTA: Rags to Riches to Rags and Grace Paley: Collected Shorts, plus broadcasts worldwide: Public Radio International, CBC's Roots & Wings, Argentina's Radio Jai, Polish Radio Lublin, Australia's Hot Club, UK's Folkswagon, and WDR's Funkhaus Europa.
Live performance credits on international airwaves: CNN WorldBeat, ARD German TV's Rhythms of New York, Ebru TV's Rhythm & Roots, WFMU's TransPacific Sound Paradise, and holiday concert on WFUV. Soundscapes: Covent Garden/London (Royal Ballet: First Drafts), The Jewish Museum/NYC & Contemporary Jewish Museum/SF (Chagall and the Artists of the Russian Jewish Theater), New York Theatre Workshop/Wexner Center/national tour (SITI Company's Score). The band's recordings and special projects have received awards and support from The Sparkplug Foundation; OutMusic; The New York State Council on the Arts; and New York City's Department of Cultural Affairs, among others.
Cosmik Debris' rave explains the group's wide appeal: "Metropolitan Klezmer is anything but stereotypical, and nothing but terrific. One of the best klezmer bands in the world today."