Accordionist Ismail Butera, a founding member of Metropolitan Klezmer, plays a breathtaking array of styles, recently leading Sounds of Taraab, in traditional court repertoire of Zanzibar: Arabic modes, African rhythms, Indian film melodies, and Turkish musical genres, with lyrics in Ki-Swahili. He has taught at Buffalo Gap Balkan Folk Arts Camp, and performed Balkan, Mediterranean and Near Eastern vocals and instrumentals with groups Sharqiya and Bogomila. He has also performed with The Klezmatics, Andy Statman, Michael Alpert, Noga Group, Yale Strom's Hot P'Stromi (including soundtracks of The Last Klezmer and A Life Apart: Hasidim in America), and Latin folk ensemble Chameleon, in addition to playing Albanian, Armenian, Israeli, Sephardic and Persian music. Among his latest projects are Velvet Jubilee and ancient music/storytelling with the group Epyllion. He appears on all five Metropolitan Klezmer CDs.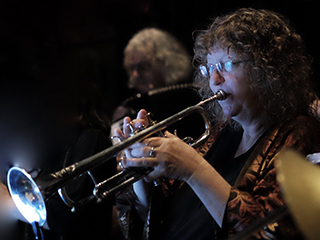 Trumpet / flugelhorn / kudu player Pam Fleming has toured internationally with reggae stars Burning Spear, Maxi Priest, Dennis Brown, as well as global blues group Hazmat Modine, Black Rock Coalition's Nina Simone Tribute, and nationwide with Natalie Merchant for Lilith Fair (also guest soloing with Indigo Girls, Sarah McLachlan and Queen Latifah). Broadcasts: Bonnie Raitt (VH1), Rufus Wainwright (Letterman), "Li'l" Jimmy Scott (PBS Sessions at 54th St). She has also performed with Government Mule, Easy Star All-Stars (RadioDread, Dub Side of the Moon, Lonely Hearts Dub Band), Cab Calloway, Bruce Springsteen, Robert Palmer, Soca star Arrow, ("Hot-Hot-Hot"), Buster Poindexter [David Johansen], Toots & the Maytals. Pam composes original world jazz for her own group, Fearless Dreamer, as heard on their three recordings: Fearless Dreamer, Climb and Buds. She also leads her entertaining Halloween group, The Dead Zombie Band, heard on their original recording Rise And Dance.
A graduate of Eastman School of Music, she performs on all recordings by Metropolitan Klezmer and Isle of Klezbos, and has composed for them as well. Her flugelhorn solo is heard in HBO's Schmatta: Rags to Riches to Rags, and she performed in the hit debut of J. Edgar Klezmer: Songs from My Grandmother's FBI Files. More at FearlessDreamer.com
Hailed by The New York Times for her "delirious abandon" onstage, versatile vocalist Melissa Fogarty began as a leading child performer at the Metropolitan Opera, making her adult debut with New York City Opera in Mark Morris' production of Purcell's King Arthur, then singing The Magic Flute at Battery Park. Other acclaimed recent roles: Ottavia (Opera Omnia's Coronation of Poppea at Le Poisson Rouge) and New York City Opera's Vox Fest for new opera (2007–2009). A favorite of Pulitzer Prize-winning composer David Del Tredici, she has performed many of his works, including world premieres (written with Melissa in mind) at Symphony Space. She has also sung with Seattle Baroque, Pomerium, Ensemble for the Seicento, new music North/South Consonance, and Sequitur at Merkin Hall, among others.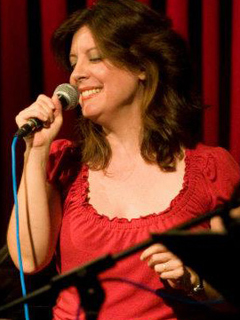 A graduate of Eastman School of Music, her debut solo CD Handel: Scorned & Betrayed won accolades including an Outmusic Award. Her second recording, Despite & Still, commemorating the centenary of Samuel Barber, has garnered rave reviews. She has also collaborated with pianist Marc Peloquin on the John Corigliano song cycle Mr. Tambourine Man with texts by Bob Dylan. Melissa received the Adams Fellowship at Carmel Bach Festival and Giorgio Cini Fellowship for study in Venice. Vocalist for both Metropolitan Klezmer and Isle of Klezbos since 2008, she also starred in J. Edgar Klezmer: Songs from My Grandmother's FBI Files. Melissa's latest project, with clarinet/sax player Debra Kreisberg, is jazz quintet The Highliners. She can be heard on Metropolitan Klezmer's 2014 Mazel Means Good Luck and Isle of Klezbos' Live From Brooklyn. More at MelissaFogarty.com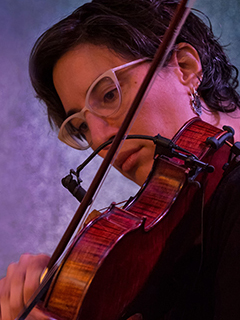 Karen Waltuch is best known as a violist and professional gardener about NYC. She has worked with Tony Conrad, Natalie Merchant, Wilco, Tyondai Braxton, Reps and many other esteemed musicians. She is one half of Zeke & Karen, a harmonizing duo of has-been ditties. Karen is heard on Metropolitan Klezmer's latest album, Mazel Means Good Luck. as well as appearing on bonus tracks for Isle of Klezbos' Live From Brooklynn (2014). More at KarenWaltuch.com
Debra Kreisberg is a New York City-based professional saxophonist, clarinetist, and educator performing and teaching in a wide range of contemporary and world music genres. She performed on clarinet, bass clarinet and tin whistle in the Tony Award-winning play Indecent at the Oregon Shakespeare Festival and in MacArthur "Genius" Grant winner Taylor Mac's 24-Decade History of Popular Music. Debra has performed with artists ranging from Natalie Merchant and Jill Sobule to Paquito D'Rivera, and has toured in the US and abroad with Metropolitan Klezmer and Isle of Klezbos, and Latin jazz ensembles Los Más Valientes and Bronx Conexión Latin Jazz Big Band. She is also co-artistic director and bandleader of the jazz quintet The Highliners. Debra's playing and compositions have been heard on CBS Sunday Morning, CNN Worldbeat, WBGO, SiriusXM Radio, and on Showtime's The L Word. A graduate of the Eastman School of Music, with an MM from Manhattan School of Music, Debra has served as a woodwind teaching artist with the Afro Latin Jazz Alliance and Bronx Arts Ensemble, and on the faculties of Trinity School and Brearley School. More at DebraKreisberg.com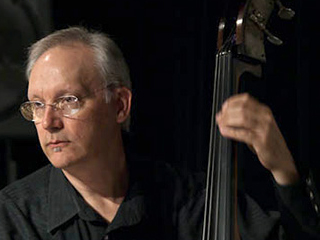 Bassist/tuba artist Dave Hofstra has played, toured, and recorded extensively in jazz, rock, blues, klezmer, and new music. He has performed with artists Bobby Previte, Lou Grassi, Bobby Radcliff, Grady Gaines, John Zorn, Wayne Horvitz, Robin Holcomb, Debbie Davies, Elliott Sharp, Tom Cora, Guy Klucevsek, Bill Frisell, Toshi Reagon, Luka Bloom, Marshall Crenshaw, Joel Forrester, William Parker, and Nora York, as well as Philip Johnston's Big Trouble; The Microscopic Septet [Fresh Air theme, NPR]; Rachelle Garniez's Fortunate Few; Casselberry & DuPree; The Waitresses; and The Klezmatics. A founding member of Metropolitan Klezmer, he appears on all the band's recordings, and is also heard as a guest artist playing on Greetings from the Isle of Klezbos.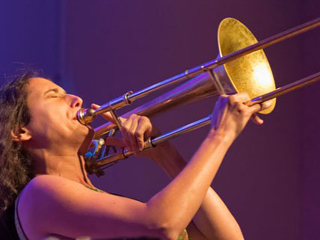 Born and raised in Israel, TROMBONIST, COMPOSER AND TEACHER REUT REGEV has been living in NYC for over a decade, collaborating, recording and touring with some of the finest musicians in various fields, including Latin, Klezmer, Rock, Blues, Jazz, contemporary classical and improvised music. She has recorded and toured with Anthony Braxton, Butch Morris, Joe Bataan, Hazmat Modine and Frank London to name a few.
In her band R*time, Reut combines influences from her versatile experience, while keeping soul and creativity as the guiding light. Her music has been described as "Stoner Funk", "Futuristic Tribalism", "worldly informed" and as music that "straddles the heavy metal bebop divide." R*time has released two critically acclaimed CDs, the most recent one on Enja Records. Reut and her band have been featured in some of the most important jazz festivals in Europe and North America. Reut appears on Metropolitan Klezmer's two most recent CDs — Mazel Means Good Luck and Traveling Show — and has also performed in J. Edgar Klezmer and as guest artist with Isle of Klezbos — appearing on bonus tracks for Isle of Klezbos' Live From Brooklyn (2014). More at ReutRegev.com

Drummer/bandleader Eve Sicular founded Metropolitan Klezmer in 1994 and 'sister sextet' Isle of Klezbos in 1998. She has produced the two bands' seven acclaimed CDs, as well as band tours throughout North America and Europe. Her musical and multi-media archival projects have received accolades from Sparkplug Foundation, Outmusic Awards, Chamber Music America, New York State Council on the Arts, and NYC's Department of Cultural Affairs. Eve's arrangements have been heard on Showtime's The L Word, HBO's Schmatta: Rags to Riches to Rags, CBS Sunday Morning, and soundscapes from SITI Theatre Co to London's Royal Ballet at Covent Garden, as well as in pieces at New York Theatre Workshop, The Museum of The City of New York, The Wexner Center, The Jewish Museum [NYC] and The Contemporary Jewish Museum [SF].
Sicular's musical documentary theater work J. Edgar Klezmer: Songs from My Grandmother's FBI Files, for which Eve wrote original music, lyrics, and book, was praised by The New York Times for "lively score… smartly written" in its 2015 debut at HERE Arts Center. Drawing full houses for its Off-Off Broadway run as well at Westchester's Emelin Theatre, the show was a hit since its first incarnations at Dixon Place and JCC Manhattan. Her arrangement of the Yiddish Triangle Fire ballad Di Fire Korbunes premiered at the Cooper Union Great Hall centenary concert commemorating the 1911 tragedy and is featured as a bonus track on Metropolitan Klezmer's latest release Mazel Means Good Luck.
Eve has also played a wide variety of styles with artists such as Jill Sobule [Music for Yentl], Charming Hostess, The Voodoobillies, and Daughters of Cybele, as well as studio sessions for Scissor Sisters.
A Harvard graduate, she wrote her thesis Ideology & Montage on early Soviet documentarian Esther Shub and her pioneering use of archival materials. Eve has also published and lectured internationally on topics such as The Celluloid Closet of Yiddish Film and Music in Yiddish Cinema. In addition to her work at The Museum of Modern Art on the landmark retrospective Bridge of Light: Yiddish Film Between Two Worlds, co-organized by MoMA and The National Center for Jewish Film, she is a former curator of the Film & Photo Archives at YIVO Institute.