Metropolitan Klezmer performs
Uncle Moses Wedding Dance

live from New York at the Drom nightclub.

Traditional folk dance tunes adapted from the soundtrack of Uncle Moses [1932, USA] and a field transcription by Moishe Beregovsky [USSR] were arranged for Metropolitan Klezmer by Eve Sicular. Opening and closing melody as heard in tenement wedding scene of early Yiddish "talkie" feature starring the film's director, Maurice Schwartz, in the title role. Debra Kreisberg, clarinet; Pam Fleming, trumpet; Reut Regev, trombone; Ismail Butera, accordion; Michael Hess, violin; Dave Hofstra, bass; Eve Sicular, drums. Live and studio recorded versions appear on both our Surprising Finds and Traveling Show CD releases, as well as Live From Brooklyn by our sister sextet, Isle of Klezbos.
| | |
| --- | --- |
| Photo: Lincoln Center 2016 full house, Multimedia Concert | Photo: Leon Liebgold's Yiddish message, Yidl Mitn Fidl, 1936 |
One of Metropolitan Klezmer's specialties is the fascinating range of music found in vintage Yiddish film soundtracks, from tango to tragic lullaby to tenement wedding dance and much more. Program can be presented also with archival movie clips in a multi-media concert, as seen at venues nationwide such as Lincoln Center.
The band plays original arrangements inspired by scenes in both celebrated movies and lesser-known cinematic gems, just to name a few:
Hasidic chant and sewing song from The Dybbuk
Tenement wedding dance from Uncle Moses
Folk & dance melodies for newsreels of Moscow's Soviet Yiddish Theater (GOSET)
Second Avenue swing from Mamele
Love songs and revealing lullaby, demonstrating surprise classical connection: Der Vilner Shtot Khazn [Overture to Glory]
A little-known folkloric grandma's dance as heard in Molly Picon's Polish films
Yiddish tangos from Americaner Schadchen [American Matchmaker] and Yidl Mitn Fidl
Songs of the street and comic protest from Yidl Mitn Fidl and Mayn Zundele (aka Lebediker Yusem)
New Adaptation of
The Dybbuk's Farlangen
Farlangen (Longing) performed by frequent Klezbos guest Natalia Zukerman, arranged by Eve Sicular, adapted from music composed by Henech Kon for a lesser-known scene in the classic 1937 Yiddish film The Dybbuk. Soundtrack composer Henech Kon was a sophisticated musician born into a Hasidic Polish home, who may even have worked on the original stage Dybbuk production by the Vilna Troupe in 1920, based on material from the Jewish ethnographic expeditions of Sh. An-sky.
This adaptation project is supported in part by the David Shneer New Yiddish Culture Grant of Yiddishkayt's Wallis Annenberg Helix Fellowship.
THE JEWISH SOUL: Ten Classics of Yiddish Cinema is now available in a 5 blu-ray set. It includes Dybbuk, and American Matchmaker with audio commentary by Eve Sicular. Read this LA Times article for a an extended review of this new box set of restored Yiddish films.
Edgar Ulmer's Canon of Cinema Contagion
Former curator of Film & Photo Archives at YIVO Institute, Eve wrote her Harvard honors thesis on early Soviet film innovator Esther Shub.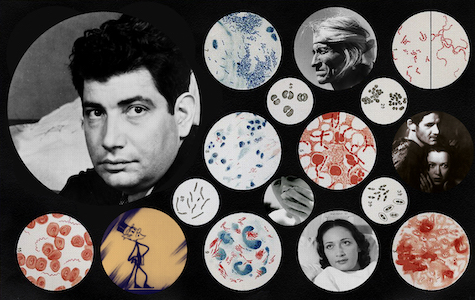 Eve Sicular's full exploration of director Edgar Ulmer's "Canon of Cinema Contagion: Gothic Yiddish Plague Meets TB Screen Crusade" now up at Yiddishkayt.org
Yiddishkayt also co-hosted the Layka Lens series! Author/bandleader Eve joined the Thurs, Aug 27, 2020 panel discussion on Ulmer's dystopic shtetl movie "The Light Ahead" aka Fishke der Krumer | פישקע דער קרומער
Eve's latest article on Yiddish cinema titled "In a horror master's rare TB films, warnings for a future pandemic," about Edgar Ulmer, was published in the Forward on July 6, 2020. Timely, haunting...check it out!
Our Music in Yiddish Cinema multimedia program has been presented from coast to coast, including The New York Public Library for the Performing Arts at Lincoln Center and NYC's landmark Museum at Eldridge Street where Metropolitan Klezmer performed to packed houses.
"... tonight at the famous, recently reopened synagogue at the base of Eldridge Street, Metropolitan Klezmer reminded why they're one of the foremost groups in the current wave of klezmer revivalists. But they didn't do it with the party music. Instead, bandleader/drummer Eve Sicular who's also a film historian, assembled a program of incidental and theme music from Yiddish film from the 1930s and 40s, from both the US and the Soviet Union. The band interpolated their songs — a mix of instrumentals and vocal numbers — between movie clips which played on a screen on the left side of the gorgeously renovated synagogue."
— Lucid Culture (read more)
"While other bands add Jewish music to a movie, Metropolitan Klezmer has been reversing the process for many years, deriving some of its repertoire from Yiddish cinema classics. In April, they will devote an entire concert to the Metro/movie nexus. Given Bandleader Eve Sicular's lifelong interest in film, this is a logical development. After all, Sicular was an assistant to the curator on the Museum of Modern Art's famous Yiddish film retrospective in the early 1990's, an event whose impact on the revival of interest in Yiddish culture has yet to be measured."
— George Robinson, THE JEWISH WEEK