photo: amazon pixels - Metropolitan Klezmer w/ Isle Of Klezbos Double Bill Klezmer Brunch 2018
2020
THE JEWISH SOUL: Ten Classics of Yiddish Cinema is now available in a 5 blu-ray set. It includes Dybbuk, and American Matchmaker with audio commentary by Eve Sicular. Read this LA Times article for a an extended review of this new box set of restored Yiddish films.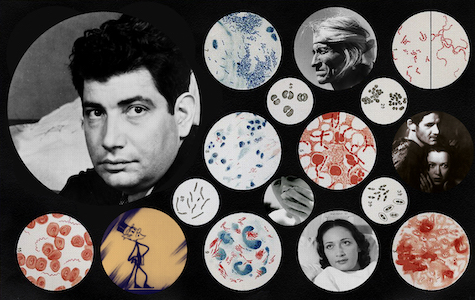 Eve Sicular's full exploration of director Edgar Ulmer's "Canon of Cinema Contagion: Gothic Yiddish Plague Meets TB Screen Crusade" now up at Yiddishkayt.org
Yiddishkayt also co-hosted the Layka Lens series! Author/bandleader Eve joined the Thurs, Aug 27, 2020 panel discussion on Ulmer's dystopic shtetl movie "The Light Ahead" aka Fishke der Krumer | פישקע דער קרומער

Read Eve's article in the Forward on Yiddish cinema titled "In a horror master's rare TB films, warnings for a future pandemic," and discover the related Yiddish films of Edgar Ulmer.
2019 — 25th Anniversary!
METROPOLITAN KLEZMER's Jubilation! 25th Anniversary Octet Concerts Series is made possible in part with public funds from Creative Engagement.
11/14/19 at The Museum at Eldridge Street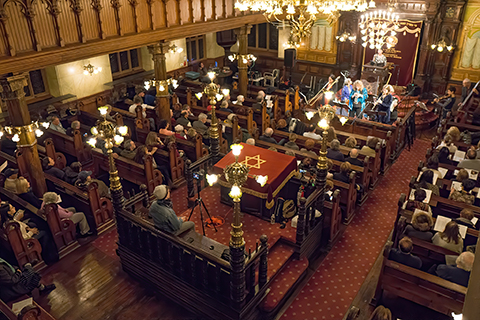 Coping with tragedy through song: balladry of the Triangle Shirtwaist Fire
On March 25th, 1911, a fire broke out on the factory floors of the Triangle Shirtwaist Company. By the time the flames had been put out, 145 workers, mostly young immigrant girls, had perished. The tragedy sent shockwaves through the immigrant community and became a symbol of the rampant mistreatment of workers by factory owners looking to maximize their profits through abusive practices and neglected, unsafe environments. This essay, a version of which was written in 2011 by drummer and Metropolitan Klezmer bandleader Eve Sicular, explores the Yiddish community's reckoning with the tragedy through song ...
5/23/19 — Washington DC's JxJ Fest presented "MUSIC FROM YIDDISH CINEMA" featuring bandmates from Metropolitan Klezmer and Isle of Klezbos, led by film maven & drummer Eve Sicular. The multi-media concert took place at the AFI Silver Theater.
4/25 — 5/11/19

NYC-based Blessed Unrest teamed up with Teatri Oda from Kosovo and Metropolitan Klezmer members Debra Kreisberg, Ismail Butera and Eve Sicular who performed as the band for the world-premiere of REFUGE at Rose Nagelberg at Baruch Performing Arts Center. The play based on real events, juxtaposes the plight of refugees in 1991 Yugoslavia and Jews in World War II, mainly portraying a Jewish family that is hidden by Albanians, based on the powerful 'besa' code of moral conduct. (The companies are working on bringing the show back, it may tour Europe.) ››Read review in Voices of NY
2018
"Metropolitan Klezmer, which will hit the 25-year mark in 2019, and Isle of Klezbos, which marks 20 years in '18, keep the Eastern European roots music pretty pure. The two ensembles bring their rollicking neo-trad sound, with forays into downtown, classical and world music, to the City Winery's Sunday klezmer brunch. It's an Old-World groove brought to Soho."
Jewish Week, Jan 3-19, 2018
2017
Metropolitan Klezmer's Colorado debut at JAAMM Festival filled Mizel Arts & Culture Center in Denver.
Cinema Arts Centre kicked off its Jewish Film Series with "MUSIC FROM YIDDISH CINEMA" featuring Metropolitan Klezmer octet, led by film maven & drummer Eve Sicular. The multi-media concert, dubbed "Mazel Trove" by Long Island's Newsday, drew a thrilled full house.
2016
Falcon Ridge Folk Festival debut — Metropolitan Klezmer's performances were first time that Yiddish music was featured in the beloved Festival's 28 years! We performed on both the Main Stage and (with dance leader Avia Moore) the Dance Stage.
Metropolitan Klezmer was awarded a Creative Engagement grant for our Fall 2016 "Music from Yiddish Cinema" project, presented by the full octet at Bruno Walter Auditorium of the New York Public Library for the Performing Arts at Lincoln Center. Thanks to Lower Manhattan Cultural Council, New York City Department of Cultural Affairs, New York State Council on the Arts, and our fiscal sponsor Jews for Racial & Economic Justice.
Metropolitan Klezmer's second residency at The 92nd Street Y's Musical Introduction series (February 2016), with all eight bandmates, live-streamed one of our six concerts for to online audiences globally. Watch (and listen!) to The 92nd Street Y's video of our performance!
We enjoyed a full, enthusiastic house for our "J. Edgar Klezmer" performance December 5, 2015 at The Emelin Theatre in Westchester County NY, for which we received a production grant from the Arch & Bruce Brown. Read our June 2015 New York Times review for "J. EDGAR KLEZMER: Songs from My Grandmother's FBI Files" at HERE Arts, Off-Off Broadway.
Virtuoso Paquito D'Rivera delighted Metropolitan Klezmer twice in December, sitting in with the band first at our UBS Atrium concert in NJ, and then for our third annual Santa Klez show at Cornelia Street Café in NYC's West Village. His clarinet solos graced both the klezmer cumbia hit "Cartagena Chosidl" and some of our favorite Yiddish swing repertoire.
2015
Bandleader/lecturer/J. Edgar Klezmer creator Eve Sicular was featured in a full-length radio broadcast interview premiered 12/3/2015 (just in time for Hanukkah) on This Show is So Gay hosted by blogger Ken Schneck, touching on her many fields of creative endeavor and numerous recent & upcoming projects.
We met our Indiegogo campaign goal and the contributions have continued to come in. We are so grateful to everyone for supporting "J.EDGAR KLEZMER" in its first fully-produced theatrical year. We've now reached 130%! The campaign is still live In Demand here, with active donor perks too: https://www.indiegogo.com/projects/j-edgar-klezmer-songs-from-my-grandma-s-fbi-files#/
THANKS FOR WATCHING, MR. HOOVER – J. Edgar Klezmer review in The New York Times. Three more chances to see the musical documentary at HERE: Saturday and Sunday at 7PM, plus a 2PM Sunday matinee.
Radio Woking UK's Nate & Paul chat with Eve Sicular about Metropolitan Klezmer's "Pick a Pocket or Two" and "Guys & Dolls & Bagels" on Sunday Show Tunes (a little past an hour into the program).
Thanks for supporting J. Edgar Klezmer! The response to our Indiegogo campaign has exceeded our goal by over 120%. We're thrilled that donations have continued post-campaign.
J. Edgar Klezmer had a fantastic first full-theatrical run in February at Centenary Stage Company, in Hackettstown, NJ. Review by NJ Arts Maven. Preview in The Jewish Week
Metropolitan Klezmer's "Mazel Means Good Luck" is on NYMD's best of 2014 albums list
We launched our INDIEGOGO campaign on January 25 to support staging of J. Edgar Klezmer. Check out all the perks here.
J Edgar Klezmer: Songs from my grandmother's FBI files will be at Centenary Stage Company, Kutz Theater, February 12 through 15
2014
Metropolitan Klezmer's "Mazel Means Good Luck" is on NYMD's best of 2014 albums list: "An especially wild live album by this deliciously shapeshifting, latin and reggae-influenced New York Jewish music juggernaut."
Metropolitan Klezmer celebrates their 20th Anniversary this year with the release of a new album. Mazel Means Good Luck will be available online November 25 and in stores on December 9. More info
On December 15 the acclaimed octet will perform selections from the new recording with a special concert at The Museum at Eldridge Street.
Metropolitan Klezmer's music will be heard in Esther Broner: A Weave of Women, premiering on March 24th at the JCC in Manhattan. More
At CMA Conference weekend find Metropolitan Klezmer & Isle of Klezbos at Plymouth Room Table #19, ninth floor.
Metropolitan Klezmer celebrates our 20-year anniversary in 2014! Special events and the release of our fifth album, Mazel Means Good Luck, coming up.
At CMA Conference weekend, find Metropolitan Klezmer & Isle of Klezbos at Plymouth Room Table #19, ninth floor.
2013
Wednesday, November 20, 5:45p.m.-7:30 p.m.
Eve Sicular, The Celluloid Closet of Yiddish Film
Joseph Slifka Center for Jewish Life at Yale University (80 Wall Street), Chapel (2nd floor), New Haven CT
Sponsored by the Yale Judaic Studies Program, the Yale Film Studies Program, and the Yiddish Book Center with support from the Jack & Ruthe B. Cowl Center for Jewish Culture.
Contact Nathalie Levine at nathalie.levine@yale.edu.
Great concert footage and audio from our double bill with Isle of Klezbos at Brooklyn Center for the Performing Arts (Time Out Music Pick!) New video & upcoming fifth CD in the works.
Music from Metropolitan Klezmer's Mosaic Persuasion CD to be heard in new documentary, "Esther Broner: A Weave of Women" (our In-Law's Taxim/Mekhutonim Tants on film soundtrack).
Check out our latest on YouTube: Cartagena Chosidl (original klezmer cumbia), posted from our archives. Recorded outdoors at Summer on the Hudson. Composed by Rick Faulkner.
We are honored that our recording of Di Fire Korbunes is excerpted for this video about the Chalk Project, memorializing The Triangle Fire every March 25 across New York City.
2012
Played the ultimate Craig's List wedding, for Craig Newmark himself and his lovely dancing bride Eileen.
Hanukah 2012 highlights: Octet at The Emelin Theatre (Mamaroneck NY) and City Winery NYC, then Santa Klez special at The Museum of Jewish Heritage. Great new repertoire & live recording!
Metropolitan Klezmer played for NYC's Jewish Heritage Month celebration at Gracie Mansion. Mayor Bloomberg invited 1,000 guests to this annual event (Neil Sedaka and kosher BBQ too!) MORE
Metropolitan Klezmer's live recording of Di Fire Korbunes from Cooper Union is featured in Activist New York, the inaugural exhibition in The Puffin Foundation Gallery at The Museum of the City of New York.
2011
Sister sextet Isle of Klezbos launches new website: Klezbos.com