---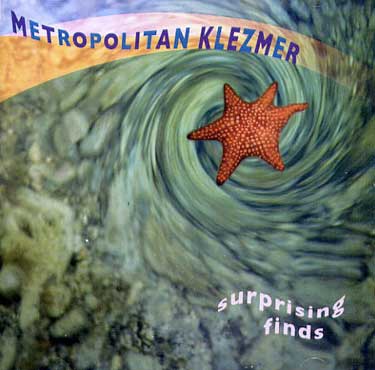 Surprising Finds, Metropolitan Klezmer's third CD is their most expressive disc yet, encompassing wonderfully diverse, dynamic studio and live tracks. Gorgeous, fun and virtuosically played, the eight-piece band's tight and imaginative arrangements bring new life to pieces ranging from rollicking to sinuous to dreamlike. In addition to traditionals (embracing Greek, Turkish, Rumanian, Russian, and Arabic roots of klezmer styles), the disc includes jumping Yiddish swing and lilting tango and new, original music, plus a Balkan-style adaptation of "Pick a Pocket or Two" from Oliver!; time-capsule archival transformations including tunes from the Soviet Yiddish theater of Moscow, a 19th-century ballad of the London underworld, and excerpts of 1960s reel-to-reel home audio featuring sweet singing by the grandfather of vocalist Deborah Karpel. Other unexpected treasures include a clarinet doyna and yearning hora by klezmer legend/original Greater Metropolitan Klezmer Band member Howie Leess, and vocal sample cameos by Yiddish stage and screen giant Maurice Schwartz. With bonus cuts from shows including Joe's Pub at the Public Theater and other NYC clubs, and lusciously detailed graphic design and liner notes with lyrics, translation and transliteration.
Order Surprising Finds from independent distributor goldenrod music or amazon.com
Purchase Surprising Finds through iTunes.
read reviews of Surprising Finds
OUTMUSIC Award, Outstanding New Recording/Instrumental: 2004 (and there are lots of vocals on this CD too!)
Phat Planet [U.K.] World Music Top 30, 2003
WRUW World Music Top Ten, June-July 2003
Uncle Moses' Wedding Dance
Terkisher Navratilova
Ot Azoy Neyt a Shnayder
Pick a Pocket or Two
Shpil du Fidl, Shpil
Harei At
Soothsayer Taxim
Tailor's Sher
Striver's Sher
Der Dish-washer11. Szol a Kakas Mar (live!)
Dreaming Wizard
Dray Shvester
Kinder Yorn
Howie's Doyna / No. 2 Freylekh (live!)
Abi Gezunt Medley (live!)
Der Milner's Trern
Blue Doyna Reprise (live!)
Shadkhn Tango / Rumanian Medley (live!)
Moses' Morning After