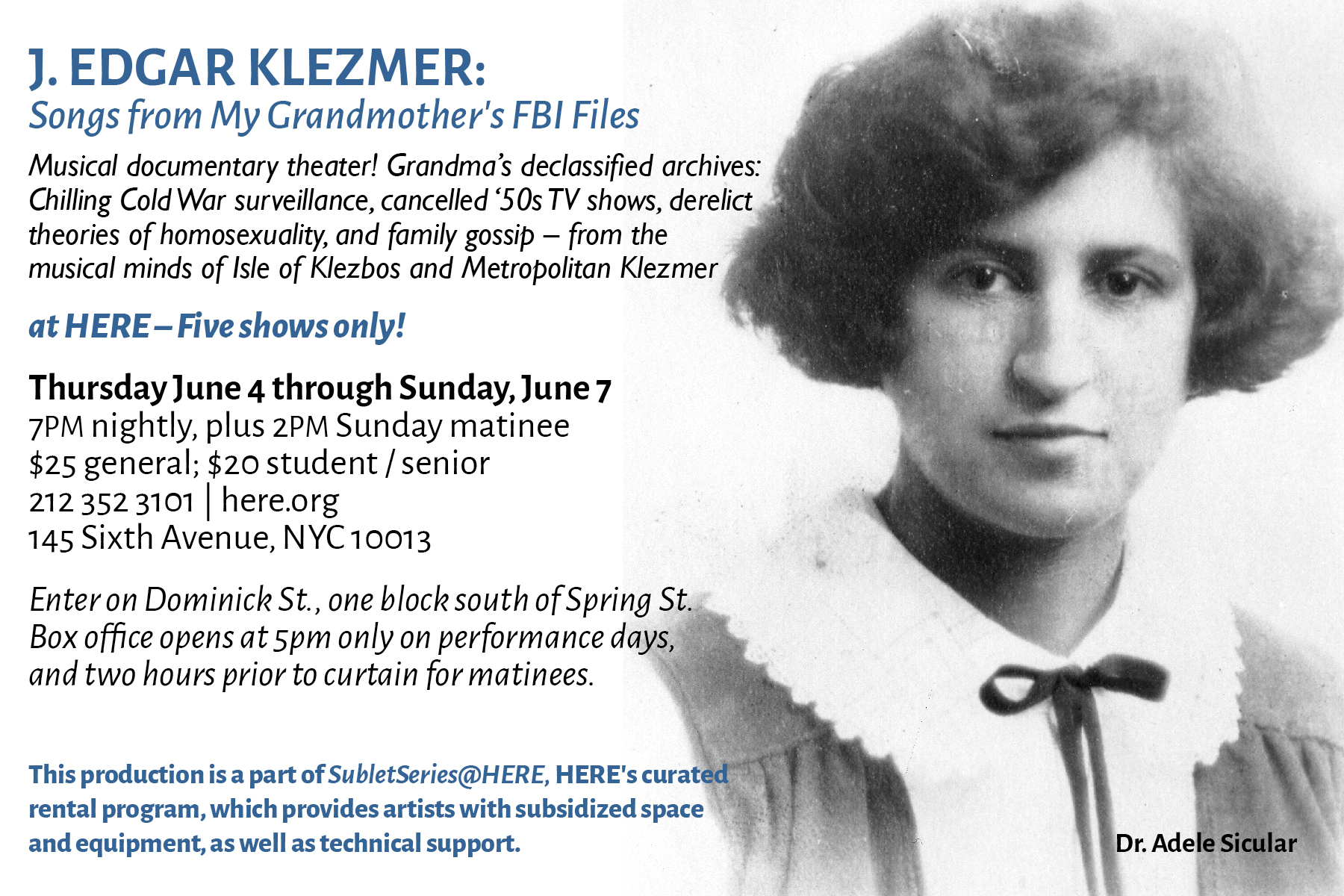 Musical Documentary Theater
Thursday, June 4 through Sunday, June 7
at HERE — 145 Sixth Avenue, NYC 10013
7PM nightly, plus 2PM Sunday matinee
212 352 3101 | here.org
Enter on Dominick Street, one block south of Spring Street. Box office opens at 5PM only on performance days, and two hours prior to curtain for matinees.
Thank you to everyone for supporting J. EDGAR KLEZMER in its first full-production theatrical run at the Centenary Stage Company. We are thrilled to report that our IndieGoGo campaign was entirely successful — we reached 115% of our goal on February 24!
It is still possible to donate via IndieGoGo. We can also accept contributions through PayPal or by mail.
Click here to donate using PayPal or credit card:
Contributions for J. Edgar Klezmer also can be sent directly to the artists.
Please make checks payable to Metropolitan Klezmer, with "J. Edgar Klezmer" on the memo line.
Mail to
Metropolitan Klezmer
151 First Avenue #145
NYC 10003
J. EDGAR KLEZMER: Songs from My Grandmother's FBI Files had a fantastic run at Centenary Stage Company in Hackettstown, NJ February 12 through 15. This expanded production of J. EDGAR KLEZMER features full staging with a complement of props, additional multi-media elements with recently unearthed Hoover / FBI surveillance imagery, and great costumes! We are raising funds to pay for this version of the show — acclaimed in its earlier versions at Dixon Place, Puffin Forum and JCC Manhattan. The stellar lineup features bandmates from Metropolitan Klezmer and Isle of Klezbos in both musician and speaking roles plus actress Yelena Shmulenson (A Serious Man; Boardwalk Empire), and veteran director Gwenyth Reitz. Funds raised will support performance and rehearsal fees, multi-media tech expertise, travel costs, production materials, documentation and more.
"THANKS FOR WATCHING, MR. HOOVER: A musical ode to Grandma, with help from the feds"
The New York Time's review of the opening night performance at HERE
"Turning Grandma's FBI File Into Theater"
Ted Merwin's preview of J. EDGAR KLEZMER in The Jewish Week
"Klezmer Meets Politics in Unique Theater Piece"
NJ Jersey Arts Maven's Sheila Abrams reviews the show
J. EDGAR KLEZMER: Songs from My Grandmother's FBI Files is a musical documentary theater adventure, researched and written by grandchild and bandleader Eve
Sicular. From klezmer to Kodaly to jazz, baroque to boogie woogie to gospel, and a New York Times clipping on Hazel Scott's cancelled TV show to derelict theories of homosexuality, J. Edgar Klezmer's exploration of surveillance files leads in even more directions than the Department of Justice could have foreseen.
J. Edgar Klezmer premiered to a sold-out house at Dixon Place in November 2008 and immediately became a Time Out NY Critics Pick.
The show is based on the true story of the late Dr. Adele Sicular, grandmother of Metropolitan Klezmer and Isle of Klezbos drummer & bandleader Eve Sicular. Using documents obtained through a Freedom of Information Act filing, plus myriad other archival findings, and combined with family gossip, this piece investigates the dealings of the FBI and Eve's pianist / psychiatrist / activist grandma through live theater, multi-media projections, and live music.
The show was again presented in June, 2009 by The Jewish Community Center in Manhattan under the direction of Isabel Milenski and in February the same year at the Puffin Cultural Forum in Teaneck, New Jersey.
CAST

Melissa Fogarty lead vocals
Yelena Shmulenson
Eve Sicular drums, grandchild
Debra Kreisberg clarinet, saxophone
Reut Regev trombone, slide trumpet
Shoko Nagai piano, accordion
DIRECTED BY Gwenyth Reitz
In June, 2009 Eve Sicular spoke to Vox Tablet's Sara Ivry about her grandmother Adele Sicular and J. Edgar Klezmer.
Listen to Prying Eyes: A klezmer musician turns her grandmother's FBI files into musical theater. Vox Tablet is Tablet Magazine's weekly podcast, hosted by Sara Ivry and produced by Julie Subrin.
Thanks to Third Street Music School Settlement, Caravan of Dreams, and A Repeat Performance for support of our current production. Development and previous performances of J. Edgar Klezmer: Songs from My Grandmother's FBI Files received support from the Manhattan Community Arts Fund, Third Street Music School Settlement, New York Theatre Workshop, and the Sparkplug Foundation.
Video excerpts are now available for presenters requesting previews of J. Edgar Klezmer: Songs from My Grandmother's FBI Files. Email Eve Sicular.